Bringing Luxury Handmade Hamper Online With Responsive eCommerce Web Design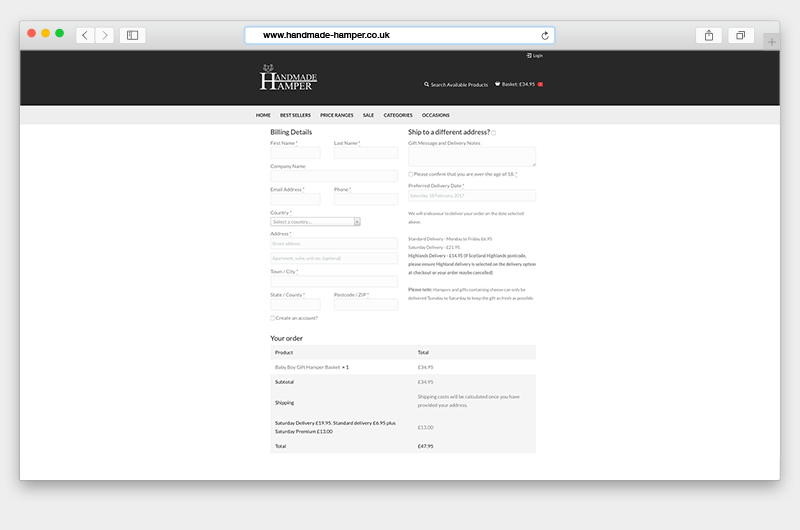 Handmade Hamper are a luxury hamper and wicker basket company based in the seaside town of Redcar. With a number of 'ready made' combinations or the option to work with their team to create your own unique luxury hamper or basket, their products are suitable for personal gifts or for corporate events. This ability to create your own perfect hamper with a member of their team ensures that the service provided by Handmade Hamper is fit for any occasion.
The directors of Handmade Hamper chose Tad Web Solutions as their chosen eCommerce web design agency in mid-2015. A fledgling business, they worked with our expert web design team to plan how they can offer their products online, create a draft category structure for their hamper and basket products and begin to market their business and sell their handpicked products online, working in partnership with an external marketing agency. Our task was to introduce Handmade Hamper and their luxury hamper products to the world through a quality, responsive eCommerce web design solution.
We agreed on the use of the ever popular WordPress framework as the foundation for the Handmade Hamper website and integrated WooCommerce's eCommerce platform for product management. This would allow for simple management of their website content and the ability to grow their product inventory as and when they require, easily manage coupons and special offers and manage the orders they take online from a simple user interface.
The initial development of the Handmade Hamper website includes:
eCommerce integration through WooCommerce.
Bespoke WordPress theme development.
Integration with Facebook Pixel.
Integration with Google Analytics for user metrics and anonymous website shopper information.
Since initial launch, the Handmade Hamper website has continued to grow in terms of traffic and orders. As such, their website's catalogue of luxury hamper products, including alcohol, chocolate and baby gifts, has expanded. We've had the pleasure of working with their team to continue to build their website and add new features, providing more options for their online customers.
We've had the pleasure of introducing Handmade Hamper and their quality products to the world through a responsive eCommerce website. We'd love to help do the same for your business. If you'd like to discuss our services and see if our eCommerce solutions would suit your business then please don't hesitate to contact us – a member of our experienced web team would be more than happy to help.